There are more flowers than usual, temperatures are getting warmer what means it is
Spring
!
Il y a plus de fleurs que d'habitude, il fait de plus en plus chaud... C'est le Printemps!
I would encourage
tourists to visit Queensland in Spring
for several reasons: Whales are visiting, the good weather, but there is
something else
...

J'encourage fortement les touristes à visiter le Queensland en cette saison pour plusieurs raisons: les baleines sont de passage avec leurs petits, la météo clémente
mais il y a autre chose...

Pic from the net

Australians are so funny and full of resources but what is going on??? I know that Halloween is coming soon but
why
is this girl disguised as Darth Vador in September, it's 28°C outside?
Les Australiens sont droles et pleins de ressources mais qu'est-ce qui leur prend? C'est bientôt Halloween mais
pourquoi
est-ce que cette fille se déguise en Darth Vador en Septembre alors qu'il fait 28°C?

Are kids fan of Star wars?
Est-ce que les enfants sont des fanatiques de Star wars?
Cyclists are obliged to wear helmets as everywhere else but do they like to
personalize
it to look odd?
Le

port du casque

est obligatoire pour les cyclistes comme partout ailleur mais aiment-ils les personaliser et n'ont-ils pas peur du ridicule?

Pic from the net
 Do skater boys want to express their style within their clan?
Est-ce que les skater boys expriment leur personlité avec leurs amis?

pic from the net
Heuu... Does he want to keep backup sunnies on him?
Est-il prévoyant car il veut garder une paire de lunettes de rechange sur lui?
Pic from the net
Hum... Why? Why are they wearing masks on their heads?
Bon sang mais pourquoi portent-ils des masques sur la tête? Surtout Mr. Bean!!!


Pic from the net: Mr Bean mask
 
Pic from the net
We saw her while walking on the beach in Sandgate... Nice!
Nous avons croisé cette personne lors d'une promenade matinale... Joli!
 
Then this morning while Stijn went for an early run around the block, he got attacked by a bird, a nasty Magpie. Now everything makes sense.
Et puis, un bon matin Stijn faisant son jogging se fit attaquer par un oiseau, une pie! Tout devint clair.
The attack !
Our neighbour told us that his ears got cut several times while walking to the bus stop. He said that you should not walk or ride
alone
... Those very territorial birds are just protecting their nests
(It's beautiful to see their strong instinct to protect their juveniles)
. They attack eagles, pets and even bikers... if they dare being alone...
Notre voisin s'est fait

couper les oreilles

et le crane à plusieurs reprises en marchant vers l'arrêt de bus. Il nous a prévenu de ne pas marcher seul... Ces oiseaux territoriaux ne font que protéger leur nid (quel instinct!) Ils plongent sur les aigles, chiens, kangourous et même les motards... Tout ceux qui osent être seuls.
One advice though,
never look up
if you are attacked, they try to
reach your eyes
! Some young children have lost sight because of it.
On a un conseil:

Ne JAMAIS regarder en l'air

lors d'une attaque car ils visent les

yeux

. Des jeunes enfants ont perdu la vue.
What about walkers?
(Que fait-on quand on est un piéton?)
I guess it is ok to wear a helmet while you ride a bike or a skateboard but can you imagine how strange it would be if all Queenslanders would wear a
helmet while walking
? This would be a tourist attraction!
Le port du casque sur un vélo, c'est normal mais que faire quand on est à pied? Doit-on aussi porter un casque? Pouvez-vous vous imaginez

l'attraction touristique

si pendant une saison, les gens devaient porter des déguisements?
Therefore some people have become quite inventive!
C'est pourquoi les Australiens sont devenu

inventifs

. En voici quelques exemples.
- The "Eye technique", some says that it has increased the attack...
- La Technique des "Yeux". Certains disent que ça augmente les attaques...

Pic from the net
 - Home made protection /
protection fait maison... On est sur de ne pas passer inaperçu...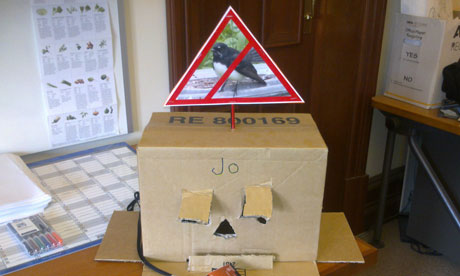 pic from the net
Here are some guys doing a tried and tested video. Enjoy!
Certains en ont fait une vidéo... Hehe

Beware of the Magpie, she is watching you!
Prenez garde à la pie, elle vous regarde!
Pic from the net