This Sunday my family (from Finland) celebrates "Santa Lucia" in Belgium and it is the first year that we will not be there to enjoy the big family reunion. As we become nostalgic during the holiday season we decided to continue the tradition.
We spent the weekend decorating our house because Christmas is approaching. We found a real tree! We really needed to go to the other side of the world to find such a beautiful dense fluffy tree.

Our real x-mas tree in Oz

A hint to my Danish side
What is Santa Lucia for Nordic European countries?
"Santa Lucia" (13th o December) is the winter-light festival, a celebration of light during the darkest days of the year in Nordic countries. Lux, luci means "light". The horror story is from the 5th century in Sicily where a Christian virgin refused to marry a man who removed her eyes or denounced her and she got her eyes removed. Since then she is the saint patron of blind people.
In our traditional celebration, a young woman of the family wears a white dress with a red ruban carrying a crown of candles. She is usually followed by the other children of the family.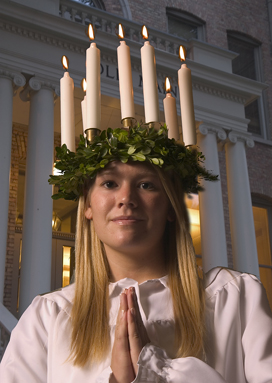 Picture from Internet
See more details
here
.
And a good celebration means FOOD! :-)
 
Warm Cinnamon Bullar from Ikea

And last but not least : The Glögg which is popular around Christmas, it is the perfect cold weather drink, warming the body and soul from the inside out. A funny site explains what it is in details:
Glögg
Our family recipe is brilliant but I think it is the first time ever that it has been prepared
on a BBQ
when the thermometer outside shows more than 25°C.

It's Stroooong!
Now we are ready for X-mas. Bring it on!
It's difficult to beleive that we are Summer here...