[Part1]
[See online version will all pictures]
Eco-tourisme: Grande barrière de corail, nous (re-)voilà!
Great Barrier reef here we are (again)!
Nous retentons l'aventure avec, cette fois çi,
réservations en main
pour le long weekend de la nouvelle année. Nous avons roulé en ligne droite jusque la ville de 1770 et Agnes Waters (toujours à 6h30 de la maison) pour loger dans un hotel pour backpakers hippies super chouette:
The Southern Cross Backpackers
. Pas mal pour du tout le décor Balinais! On y a passé la nuit de la Saint-Sylvestre où nous nous sommes écroulés dans nos lits (supperposés)... avant minuit.
For the long weekend of New Years Eve, we went back to the Town of 1770 (still 6h30 drive) with booking this time. We slept in a cool

hippie backpacker

hostel, the Southern Cross Backpackers. We felt being in Bali. We spent the New Year's eve there and fell asleep in our (bunk)beds before midnight...
On y a fait une rencontre du troisième type avec l'insecte le plus grand d'Australie... Le Titan stick insect (Phasme titanesque)... oh, une buche qui bouge...
Encounter of the third kind with the biggest insect of Australia... The

Titan stick insect

... oh a moving tree.

même pas peur.... hmmm...

Heuu... un insecte ne devrait-il pas avoir
6 pattes
? Elle a dû en perdre quelque part...
Shouldn't an insect have 6 paws? She must have

lost some

somewhere...
Bonne année à tous! Ne vous cassez pas les pattes!
Happy New year to all of you! Don't break any leg!
Love boat: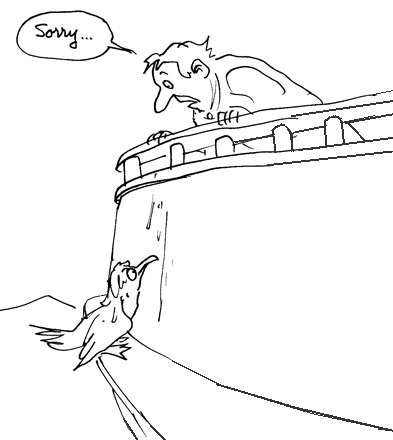 from the net

2012 commence pour nous sur l'Océan en direction de
l'île Lady Musgrave
au Sud de la Grande barrière de corail. Notre croisière romantique était un peu plus
agitée
que prévu. C'est sur une mer démontée que nous avons fait la traversée où la puissance des vagues ont eu raison des estomacs sensibles. Stijn et moi n'avions aucun problème et devions
chanter
pour couvrir le bruit de nos co-passagers... Nous étions trempés jusqu'aux os, j'étais à deux doigts de mettre mon masque de plongée (
à cause de l'eau de mer... rien d'autre je vous rassure
).
We started 2012 on a cruise to Lady Musgrave Island (South of the Great barrier reef). Our romantic cruise was

bumpier

than planned. Half of the passengers were

sick

. Stijn and I had no problem but we had to sing to block the noise... We have been wet by waves all the way. I almost put my snorkelling mask on. It was fun.
Heaven, I'm in heaven...
 
Lady Musgrave - from Internet

Nous avons fait du snorkelling dans ce lagon.
We snorkelled in that lagoon.
Alors c'est donc ça la couleur turquoise!
So, this is turquoise colour!


fishes eating on the boat
Des oiseaux nidifient sur l'île. Ils sont tellement nombreux. C'est magnifique.
Plenty of birds are nesting on the island. It's amazing.

En faisant de la plongée avec masques et tubas, on a vu pleins de poissons, de concombres de mer et des coraux colorés (
photos à faire développer
). On a vu des tortues de loin, des petits
requins
à 2m de la plage, une énorme
raie Manta
de plus de 3m. C'est une très belle expérience. Un conseil, n'oubliez pas de mettre de la crème solaire sur les fesses... Mon
coup de soleil
est inconfortable... En tout cas, on va bien dormir cette nuit!
While snorkelling we saw

colourful fishes

, corals and sea cucumbers (pictures to come). We saw turtles from far away, small

sharks

2m from the beach and a huge Manta ray. What a great experience. If you do it, don't forget to

sunscreen

your bum... My sunburn is quite uncomfortable... We will sleep well tonight!
Magical night watch
La bonne nuit de sommeil, ce n'est pas pour cette fois-çi. On a préféré rouler jusqu'à la ville de
"Bon Repos"
pour voir des tortues pondre sur la plage jusque 2h du matin à la lueur des étoiles. C'est un rêve qui se réalise.
The good night rest didn't happen. We went instead to the town of "Bon repos" to observe sea turtles lay eggs on the beach at starlight until

2.00 at night

. It was a dream come true.
1/01/2012: 8 tortues ont pondu sur la plage: Des l
oggerhead turtles
.
8 loggerhead turtles layed eggs on the beach that night.
On a aidé les scientifiques et conservateurs à relocaliser les oeufs en hauteur. C'est lourd un oeuf de tortue...
We helped scientists to relocate eggs to higher ground. He, they are heavy!
On y retourne quand???
When do we go back?